We will send the quotation to you within 24 hours.
Product Abstract:
Specializing in manufacturing high quality good price 40-watt led corn cob bulbs,commercial and HID retrofits,led retrofit bulbs,led corn light. Ideal for Warehouse and manufacturing facilities, outdoor post tops bollards, commercial and residential recessed cans, institutional and educational facilities, and other specialty projects.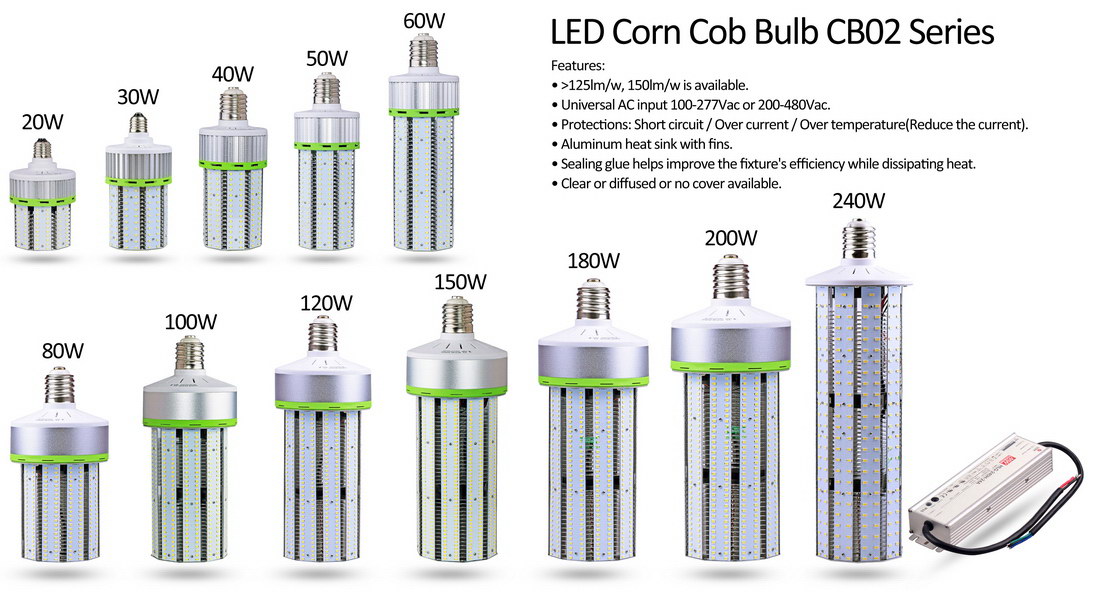 Overview:
Available in multiple wattages, HZB's LED Corn Cob Bulbs are a convenient and energy-efficient solution for replacing traditional high-pressure sodium and metal halide sources in enclosed lighting fixtures. Suitable for use in open and enclosed luminaires and Suitable for dry and damp locations.
The CB01 series are designed with a smaller size and shape for easy installation in bollards and globes, while the larger 20-watt, 30-watt, and 50-watt to 240-watt corn bulbs are ideal for acorn fixtures requiring a higher lumen output. Color temperatures for the line range from 3000K to a daylight 6700K.
Features/Benefits:
1. Installation variability
2. 360-degree optical design
3. 50,000 hour life is 8 to 17 years operating 8 hours a day, based on L70 standards
4. Effective heat transfer
5. Uniform color consistency
6. Environmentally friendly
7. Universal voltage
Advantage:
1. Specially designed for indoor and outdoor lighting.
2. Retrofit the conventional lighting fixtures.
3. It's major to replace the CFL/MH/HID/HPS.
4. Universal voltage: 120V-277V, Ballast bypass.
5. >125lm/w, 150lm/w is available.
6. Beam Degree: 360°.
7. Suitable for use in open and enclosed luminaires.
8. Suitable for dry and damp locations.
9. 3-5 year limited warranty.
10. Application: indoor lighting, conference / meeting rooms / commercial complexes, residential, institution buildings, schools, colleges, universities. Places where need energy saving and high color rendering index lighitng.
Model
HZB-CL-20W8S
HZB-CL-30W8S
HZB-CL-40W8S
HZB-CL-50W8S
HZB-CL-60W8S
HZB-CL-80W10S
Power
20W
30W
40W

50W

60W
80W
Lumens (125lm/w & 150lm/w)
2,600lm / 3,000lm
3,800lm / 4,500lm
3,800lm / 4,500lm
6,200lm / 7,500lm
7,500lm / 9,000lm
10,000lm / 12,000lm
Size
Φ96*155mm
Φ3.7*6.0inch
Φ96*155mm
Φ3.7*6.0inch
Φ96*210mm
Φ3.7*8.0inch
Φ96*210mm
Φ3.7*8.0inch
Φ96*210mm
Φ3.7*8.0inch
Φ128*260mm
Φ5.0*10.2inch
Color Temp
Warm White: 2,700 - 3,500K
Natural White: 4,000 - 4,500K
Cool White: 5,500 - 6,700K
Operation Temp
-40°- 50°C
Life Span
50,000 hours for LED
Input Voltage
100-277Vac or 200-480Vac
Power Factor
PF>0.95
Power Efficiency
>88%
Beam Angle
360°
CRI
>83
Lamp Base
E40/E39 E27/E26, Ex39
Warranty
3-5 years factory warranty
Model
HZB-CL-100W10S
HZB-CL-120W10S
HZB-CL-150W10S
HZB-CL-180W10S
HZB-CL-200W10S
HZB-CL-240W10S
Power
100W
120W
150W

180W

200W
240W
Lumens (125lm/w & 150lm/w)
13,000lm / 15,000lm
15,000lm / 18,000lm
20,000lm / 22,500lm
23,000lm / 27,000lm
26,000lm / 30,000lm
30,000lm / 36,000lm
Size
Φ128*283mm
Φ5.0*11.1inch
Φ128*315mm
Φ5.0*12.4inch
Φ128*325mm
Φ5.0*12.8inch
Φ128*340mm
Φ5.0*13.4inch
Φ128*340mm
Φ5.0*13.4inch
Φ128*400mm
Φ5.0*15.8inch
Color Temp
Warm White: 2,700 - 3,500K
Natural White: 4,000 - 4,500K
Cool White: 5,500 - 6,700K
Operation Temp
-40°- 50°C
Life Span
50,000 hours for LED
Input Voltage
100-277Vac or 200-480Vac
Power Factor
PF>0.95
Power Efficiency
>88%
Beam Angle
360°
CRI
>83
Lamp Base
E40/E39 E27/E26, Ex39
Warranty
3-5 years factory warranty