HZB LED High Bay Light of GK-04 series, high purity alloy aluminum shell, strip heat dissipation structure,surface oxidation treatment, with convection design, good heat dissipation;High bay light lens using crystal light transmission technology,transparent design, the illumination is higher, more uniform brightness;With the high lumen low loss imported chip beads and isolation high precision IC control driver, In the case of to meet high brightness,effective control of the attenuation and the service life of the whole more than 50000 hours; Special sealing coating and surface processing, ensure lamps and lanterns in the humid, high temperature environment safe use!
Occasion applicable:The factory, workshop, warehouse, indoor stadium, construction site and other large indoor occasions
CHARACTERISTIC PARAMETER:
MODEL NO.

Power

(W)

Working voltage

(v)

Power factor

(λ)

luminous flux

(lm)

Color rendering index

(Ra)

Color temperature

(k)

Beam

angle

(°)

IP Rate

(IP)

Working temperature(℃)

Lamp bead structure

GK-04-30W

30

AC85-265

﹥0.5

2400

﹥70

2700-6800

90/120/140

40

-20℃~+50℃

10 bunch 3 line

GK-04-50W

50

AC85-265

﹥0.9

4000

﹥70

2700-6800

90/120/140

40

-20℃~+50℃

10 bunch 5 line

GK-04-80W

80

AC85-265

﹥0.9

6400

﹥70

2700-6800

90/120/140

40

-20℃~+50℃

10 bunch 8 line

GK-04-100W

100

AC85-265

﹥0.9

8000

﹥70

2700-6800

90/120/140

40

-20℃~+50℃

10 bunch 10 line
REMARKS:Power error range is about 10%;The range of luminous flux error is 10%,warm white color temperature luminous flux will decrease
LUMINOUS FLUX MAINTAIN CURVE:

Remark: The graph according to the test laboratory accelerated aging fitting curve, reflect accurately the luminous attenuation situation of HUA ZHI BEI product. As a whole,50000 hour's luminous attenuation is less than 20%.
THE LIGHT DISTRIBUTION CURVE AND THE EFFECTIVE AVERAGE ILLUMINANCE DIAGRAM: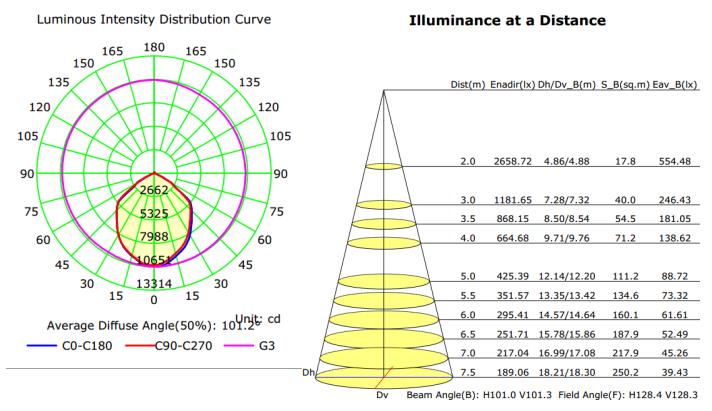 Installation instructions:
1. Lighting installation,shall ensure that under the conditions of cut off power supply,In order to avoid improper operation caused by electric shock
2. After opening the high bay light packaging later,first,using configured screw fix lampshade and lamp holder,ensure that the lamp body and the hook are connected firmly,The lamp body is installed in the reserved lamp position, or light chain, steel hook.After connection check all parts whether connected firmly.
3. After the installation is complete,link power,the test lighting whether can be used normally.
ELECTRICAL CONNECTION INSTRUCTION
LED high bay light power supply line is 3 core sheath line,the red or brown line connect live wire,the blue line connect neutral wire,Yellow green flowered line connect earth wire.After the electrical connection,the wires connection place need waterproof treatment,Inside the lamp,connecting driver and light source use waterproof joint line,easy to maintain and use.
matters needing attention:
1. In order to ensure the lighting is reliable and stable working, the ground wire must be reliable grounding!
2. After the connection,must use the insulating tape winding,ensure each other reliable insulation,and do waterproof treatment
3. The hook connect the lamp body and the hanging hook must be reliable fastening,to prevent the lamp fall off
4. The input voltage can't exceed AC285V,Otherwise it will cause irreparable damage!
Packing instructions:
Open the packing box and check it whether products, accessories, specifications and operating instructions are complete,each packing box should include a lighting products and the lighting is same model on the box;After open the packing box later,please check the product whether damaged or scratched,label and certificate whether all ready.