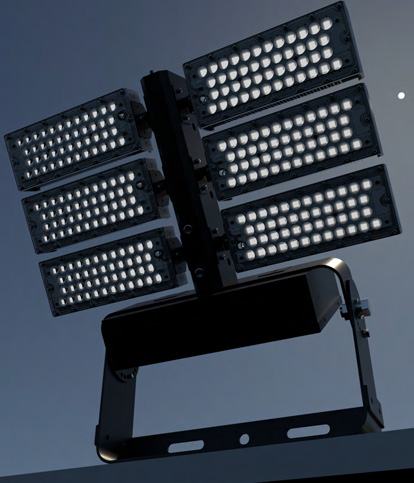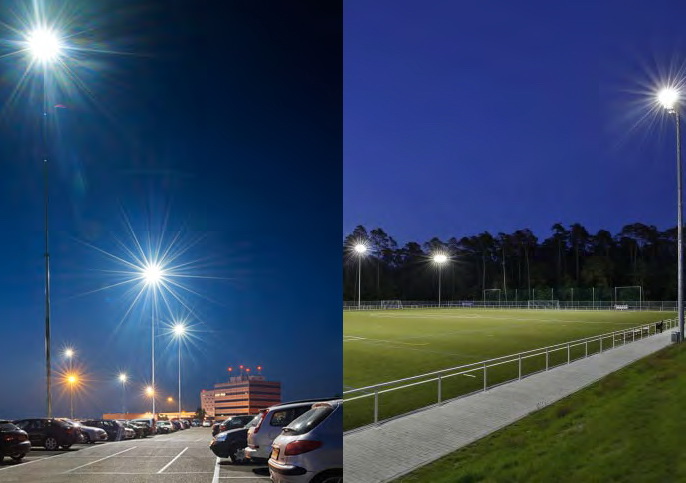 Multidirectional LED High Mast Floodlighting Fixtures Designed specifically for large area and sports applications, Sports and area floodlights and LED high mast luminaires can reduce operational and maintenance costs. We support high mast light price,fixtures and system design, high mast light Manufacturer Supplier.
Our range of High Mast Floodlights sets the standard in quality optics. LED High Mast Lighting fixtures differ greatly from the typical street or roadway lights. From sports to area lighting our systems, including the high masts needed, project the light exactly where it should be going.
Our High Mast Lights is Aluminum housing, DLC Premium Listed; Up to 223,200 lumens; Applications; High-Mast Lighting, Yard Lighting, Area & Storage Lighting; replaces existing up to 3,000Watt Metal Halide and HPS; High Power LED modular Floodlight with 600W/720W/800W/960W/1000W/1200W/1440W available. It is humanized design in details: (1) Easy Assembly and Quick Connection between Parts; (2) Angle Adjustability for LED Modules.
LED Outdoor High Mast and Stadium Light produces up to 223,200 Lumens. ETL Listed and DLC qualified for rebates. Based on the Rotatable Module Design, Mean Well Power Supply, Reliable and High Efficiency,Suitable for Sports Venues, Airports, Large Construction Sites, Exhibition Halls, Golf courses, Stadium Lighting, Ports, Highways.
The applications for LED high mast lighting where the illumination of extremely large areas such as transportation terminals, airports, high speed interchanges, prisons, ports, rail yards and freight terminals, other large, outdoor maintenance or storage yards and specialty roadway applications.
Product Features & Benefits:
• IP65 rated LED floodlighting
• Moudle design,easy to adjust light angle & easy to mounting on the pole, wall or ceiling.
• Rotatable modules offering maximum customisation
• Heavy duty stirrup mounting bracket
• Multiple optics available
• Can be installed as a floodlight or high bay,80% Energy Savings Compared to Metal Halide Lights and/or HPS.
• With illumination equivalent to 1200 watt and 1500W metal halide fixtures,you will enjoy an "instant-on, flicker-free" cold start, and industry-leading High brigtness LED chip,Luminous flux up to 155-160Lm/W.
• Protractor scale for easier aiming
• 50,000-hour operating life means years of maintenancefree operation.
• Unique design extracts heat from the light source, thereby extending component life and ultimately prolonging the useful life of the fixture.
• Lightweight design provides easy retrofitting of existing HID installations,along with quick mounting on all new installations.