Needing overhead lighting for a parking lot or small park,shoebox lights are often just what you need,these fixtures mount on top of poles to provide light from above,designed to replace 100W to 1000W Metal Halide and High Pressure Sodium shoebox lights in parking lots and other public areas.Many of our LED shoebox lighting solutions are ETL DLC Qualified for utility rebate eligibility.
Shoe box lighting is an effective way to illuminate large parking areas with ease. Fixture placement, along with the right optics, can lead to a widespread scope of lighting that is powerful and effective. With our collection of LED shoe box light fixtures, find the perfect way to illuminate parking lots of any size! Ask us for a free photometric evaluation.
LED outdoor fixtures with different mounting styles like side arm mount, slipfitter mount, trunnion mount, or wall mount,LED area lights provide bright lighting for general open spaces, parks, parking lots, car dealerships, and docks. These LED fixtures come in shoebox, slim, and traditional sizes. LED outdoor light fixtures are perfect to replace metal halide or HPS fixtures because LED lights are more energy efficient, resulting in more cost and energy savings in the long run.

Features:
1. Wattage: 80W 100W 120W 150W 300W Optional
2. Color Temperature: WW(3000-3500K), PW(4000-4500K), CW(6000K-6500K) is optional.
3. Lampbody Material: Aluminum Alloy Cover material: PC, LED chip: Epistar chip
4. Beam angle: 155degree
5. Luminous efficiency: 125LM/W
7. Power factor: >0.98
8. Warranty: 5 years
9. Driver brand: MEANWELL Driver
10. High quality aluminum die casting
11. Low temperature heat sink and LEDs provide longer life and high efficiency
12. Multiple mounting options: slip fitter, square pole, square/round pole, wall, trunnion
Advantages:
1. High quality with competitive price
2. No UV, IR radiation and good for eyes
3. Fast heat dissipation.
4. High energy efficiency & low power consumption.
5. Green and eco-friendly lighting source without mercury
6. CE, RoHS approved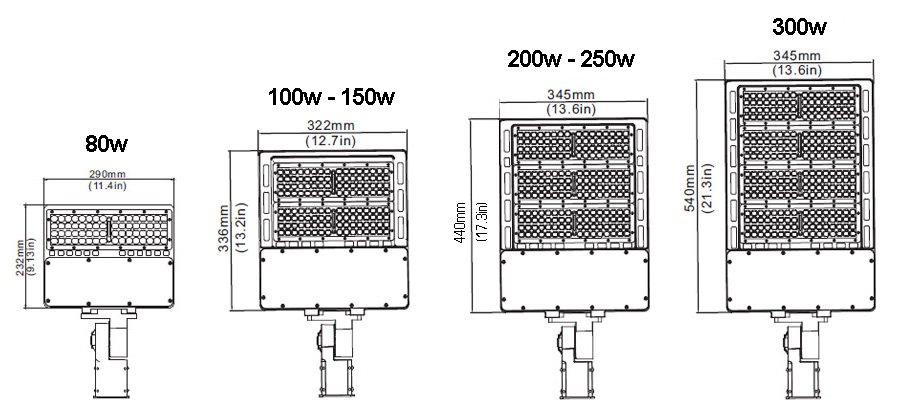 Options:
Photocell, Dimming, Motion Sensor, Surge Protection, Round Pole Mount.
Applications:
Parking lots, Roads, Industrial areas, Residential areas, Sidewalks, Schools.