We will send the quotation to you within 24 hours.
Product Abstract:
1. 240W, 165Lm/W; 2. 300W, 155Lm/w; 3. You can stock plenty of single modules to assemble them into 2,3,4modules by using different installation bracket and cable;

Airport sea port outdoor LED High Mast Flood Lights IP66 240W 480W 720W 960W 300W 600W 900W 1200W LED High Mast Light
240W-1200W LED High Mast Lights Dragon-Pro Series can replace traditional metal halide and HPS floodlights. We have authoritative certifications, such as ETL DLC ENEC TUV CE RoHS SAA CB IECEE Lm79 Lm80 ISTMT IK08 salt spray test. We focus on the R & D and manufacturing of sports field LED lighting to support large area lighting. We have achieved good results in various sports lighting. High-performance lighting is the best choice for outdoor sports lighting. Dragon Pro series each LED module is graduated to ensure precise angle adjustment, which helps achieve perfect uniform lighting.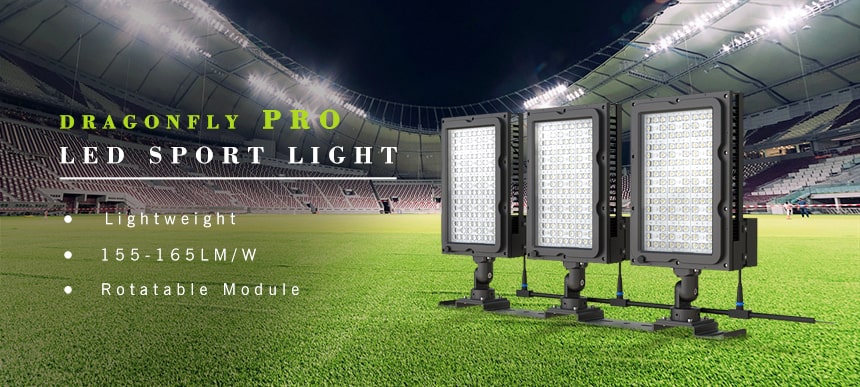 Specifications
240W LED Sports Light Module
Model No.
DHM-240W-LV
DHM-480W-LV
DHM-720W-LV
DHM-960W-LV
Power Consumption
240W
480W
720W
960W
Luminous Flux(±3%)
39,600lm
79,200LM
118,800LM
158,400LM
Efficacy (5000K, Ra70)

165(±3%)LM/W
300W LED Sports Light Module
Model No.
DHM-300W-LV
DHM-600W-LV
DHM-900W-LV
DHM-1200W-LV
Power Consumption
300W
600W
900W
1200W
Luminous Flux(±3%)
46,500lm
93,000LM
139,500LM
186,000LM
Efficacy (5000K, Ra70)

155(±3%)LM/W
IP Rating
IP66
Power Factor
>0.95
Frequency
50 / 60Hz
Wind rating
51.0-56.0m/s
Driver Type
Meanwell ELG-240-48A
Meanwell ELGC-300-H-A
Light Source
Lumileds 5050
Input Voltage
100-240 VAC / 100-277 VAC
CCT
3000K 4000K 5000K 5700K
CRI
Ra70 (Ra80, Ra90 optional)
Life Time
L70/B10 >50,000hours
Dimmable
Dimmable and Non-dimmable
Warranty
5 Years / 7 years extended warranty available
Beam Angle
10 / 20 / 40/ 60 / 90 degree/ 10 degree(P50-P8)/ 135*60 degree(P50)/97*47 degree(TypeIV)
Certification
ETL DLC ENEC TUV CE RoHS SAA CB IECEE Lm79 Lm80 ISTMT IK08 Salt spray test
Product Features
1. Unique quality of light with flickerfree operation suitable for HDTV broadcasting and Super Slow Motion.
2. Flexible optical system optimising lighting distributions for best in class results.
3. Compact and low weight for minimal structural costs.
4. Fully controllable solution enabling instant lighting, stepped illumination levels and event lighting with dynamic lighting scenarios.
5. 100-277VAC, no additional adapter required
6. LED sports lights up to 165LM/W.
7. We offer a 5-year warranty on this LED sports light.
8. 60%-80% energy efficiency, can work more than 50,000 hours, you can save a lot of energy consumption every year after replacing our LED lights.
9. Lightweight design will reduce safety hazards and installation difficulties when installed at high altitude.
10. Instant start and no flicker, so there is no need to worry about startup issues.
11. High uniformity and color rendering.
Easy Combination
1.600W is assembled by 2pcs 300W,900W is assembled by 3pcs 300W,1200W is assembled by 4pcs 300W;
2.You can stock plenty of single modules to assemble them into 2 modules,3modules and 4modules like LEGO by using different installation bracket and cable;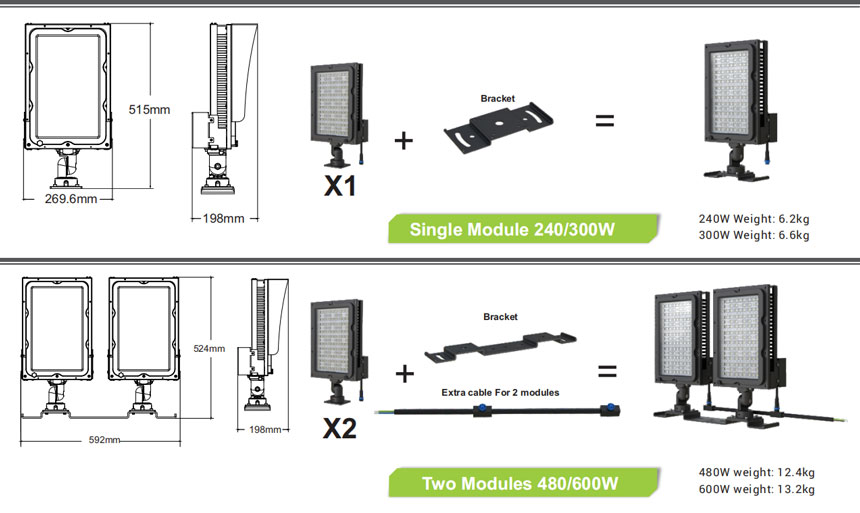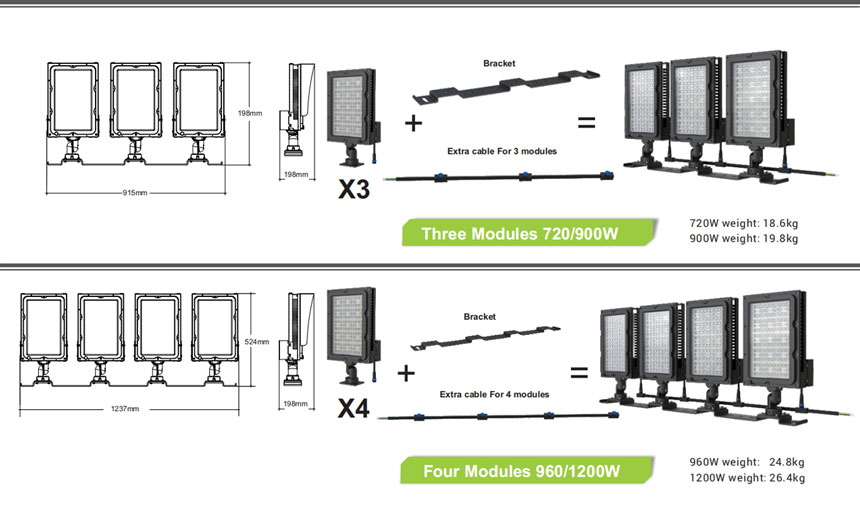 Beam Angle
20/ 40/ 60 degree

LED Sports Light Characteristics
1.Connection installed
To assemble 240W-1200W with 1-4 modules. Modules are packaged separately to reduce shipping costs. AC is connected with M15 waterproof quick connectors. One module can be quickly composed with only 4 screws.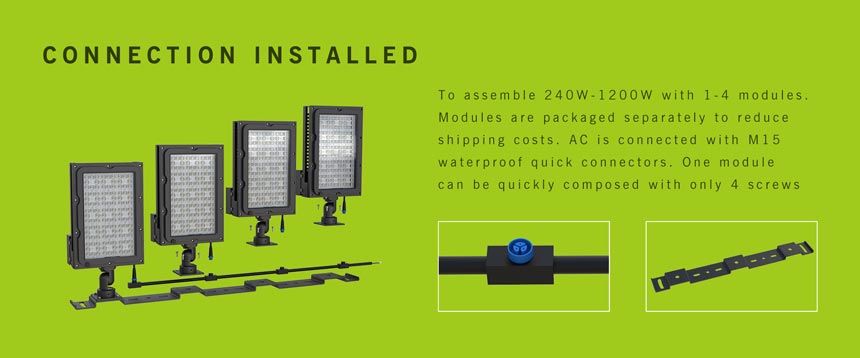 2.Lightweight Design
Less weight 50%. Weight of folding fin heat sink is lighter than die casting, extrution eto.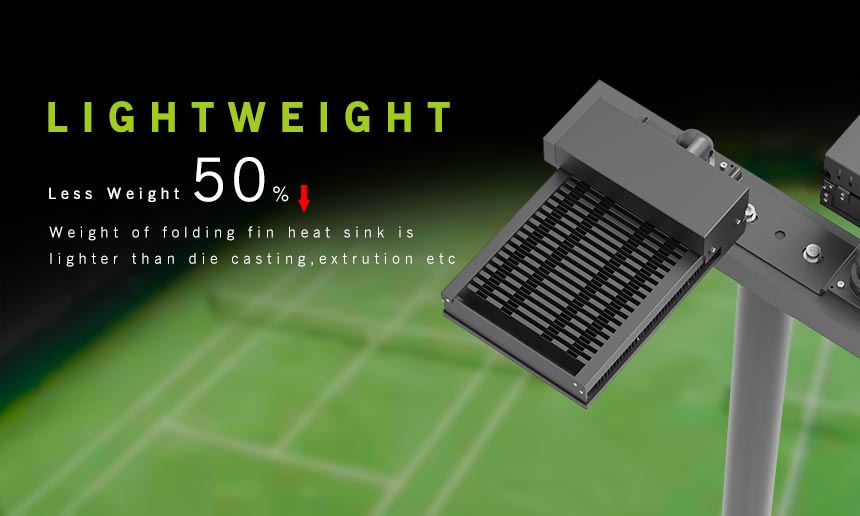 3.High heat dissipation
Our LED sport lights have a very good cooling system using a combination of highly thermally conductive materials. In fact, if the heat around the LED chip is too high, the brightness and life of the lamp will be reduced. Therefore, we also attach great importance to heat dissipation during design, which is one of the reasons for the durability of our lamps.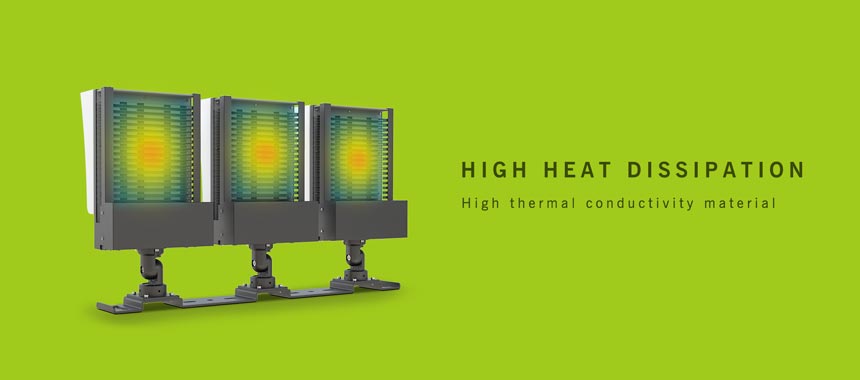 4.Rotatable Module
1.Rotating scale on the luminaire for customers to adjust the angle more accurately.
2.Module rotatable up & down & back and front up to 360 degree.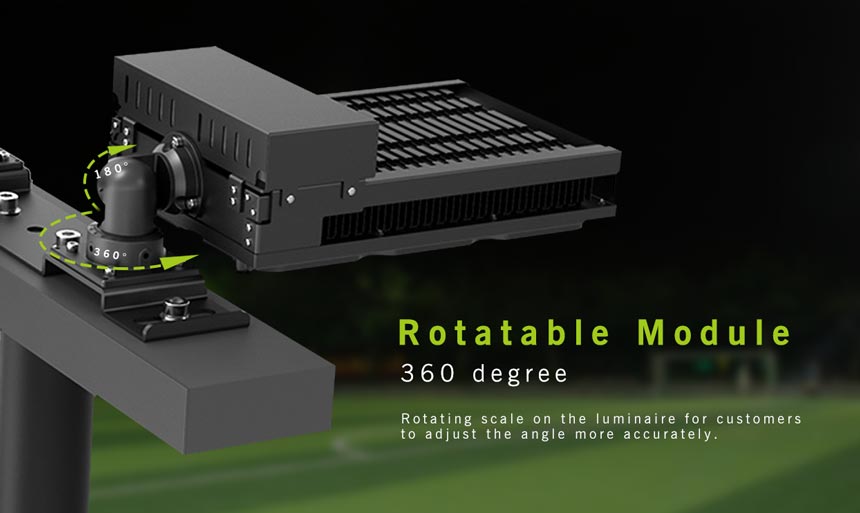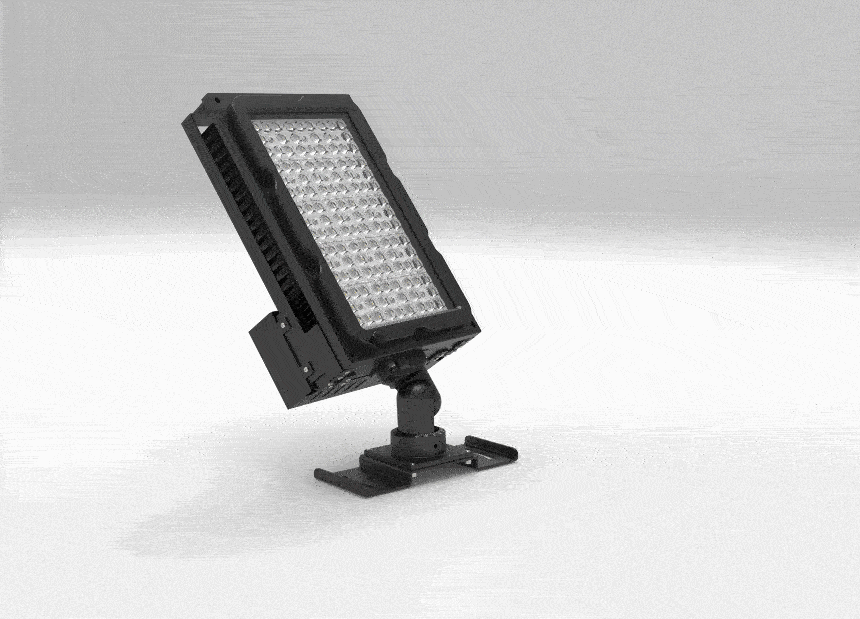 Use Quick-connector,Save 80% Maintenance Time
The male female plugs are used for all power supplies and modules. Make maintenance and installation more convenient.

Better uniformity lighting
As shown in the figure below, a bad light source will cause too many shadows on the main court, affecting the athlete's line of
sight and experience, and will reduce the visual clarity of the audience and the TV station, which will seriously cause strobe and
affect the viewing experience.

In order to minimize the impact of this shadow, we have already solved this process in designing this LED sport field area flood
lights. With our new LED Flood Light, we will get a good lighting environment. Our module is rotatable. A uniform distribution of
light can be achieved perfectly. And equipped with anti-glare cover, so that athletes and viewers can get a good experience.

Installation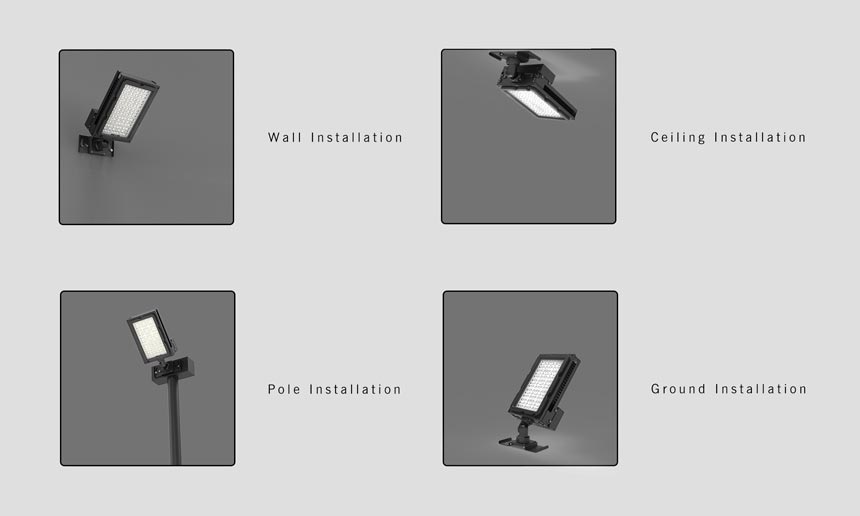 What can we do for you?
We can provide you with: 1.High quality LED Light; 2.Dlalux Lighting Design; 3.5 years Warranty;
Please feel free to contact us if there is any problem during this period;

Since 2009, we have started the lighting business and have served thousands of customers. We are a professional manufacturer and supplier of LED Stadium Area Flood lights. Our products are sold all over the world and are well received by customers.
Compared with traditional plant lights, Dragon max LED stadium lights have higher efficiency, higher uniformity and lighting quality, and longer service life. Replace your old lamps, you can get more than 75% off monthly lighting costs! contact us whenever necessary!