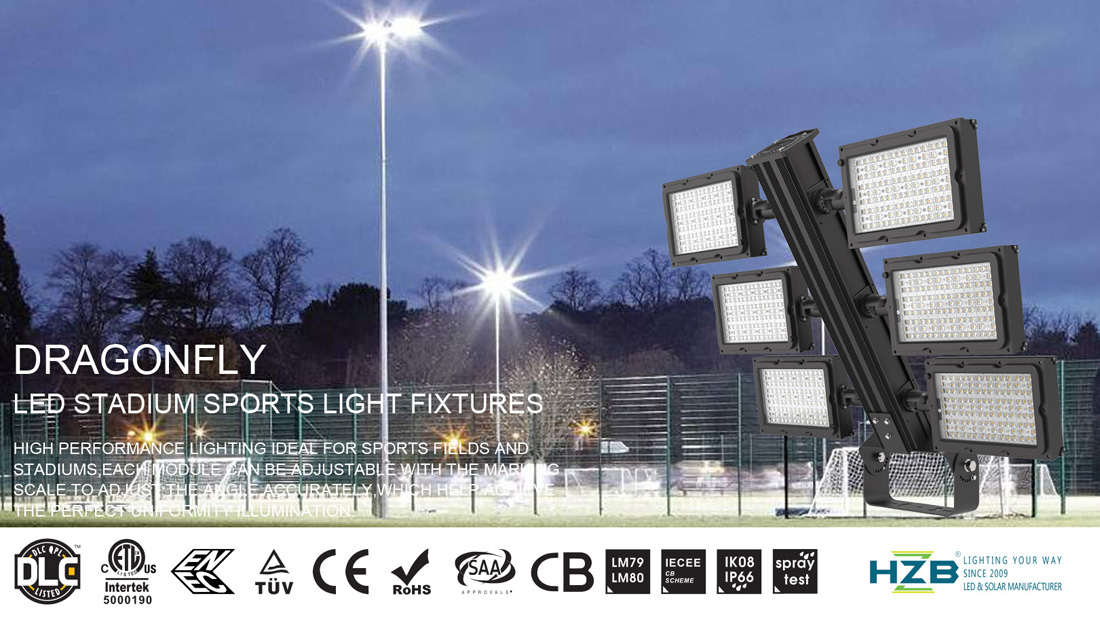 LED Stadium Sports Light Fixtures are designed to replace 400W to 2000W Metal Halide and HPS stadium lights. Supply perfect 240-1800W LED stadium Lights high efficiency lighting solution for any sport application.
DRAGONFLY SERIES
LED Sports Floodlighting 240W-1800W
High performance lighting ideal for sports fields and stadiums,Each module can be adjustable with the marking scale to adjust the angle accurately,which help achieve the perfect uniformity illumination.
HIGH POWER LED FLOODLIGHT FOR SPORTS LIGHTING APPLICATIONS
Most manufacturers design the lighting fixtures implementing lens and reflector technologies for desired light distribution.
These existing LED lighting methods according to the characteristics of the light will spread to a wider area and will also fall on the area that does not need the light and may lead to light pollution which is inefficient in terms of energy savings.
DRAGONFLY technology prevents light pollution and emits the light only to the target area, DRAGONFLY is advanced technology to control luminance with low power consumption to provide a simillar level of luminous flux and also to maximize energy savings.
• Unique quality of light with flickerfree operation suitable for HDTV broadcasting and Super Slow Motion
• Flexible optical system optimising lighting distributions for best in class results
• Compact and low weight for minimal structural costs
• Fully controllable solution enabling instant lighting, stepped illumination levels and event lighting with dynamic lighting scenarios